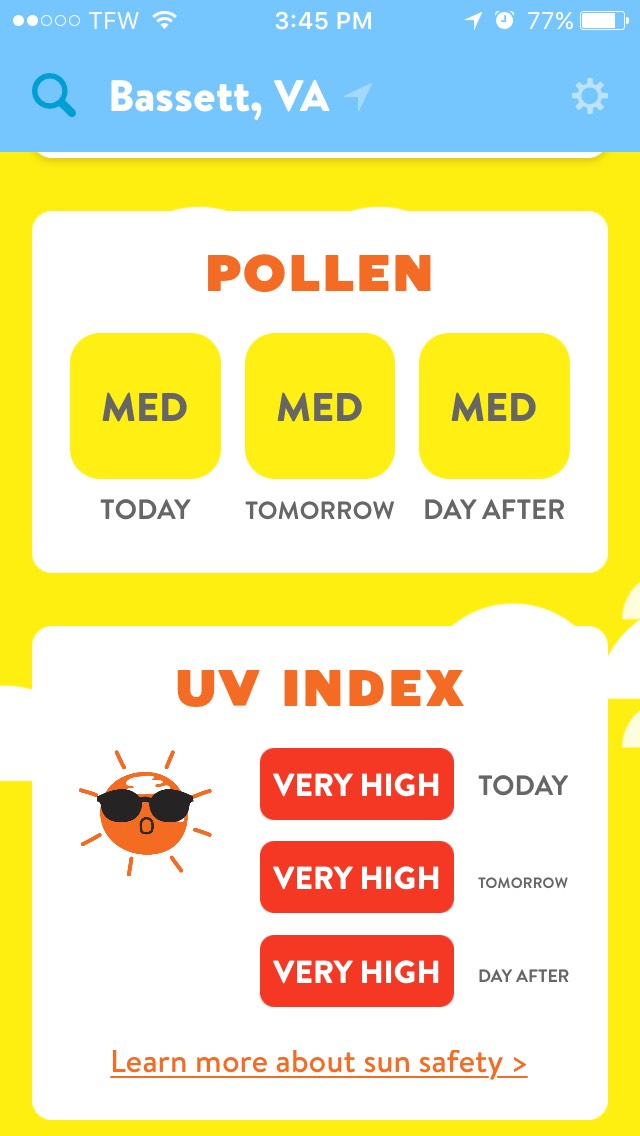 Poncho: Wake up weather is a wonderful little weather app you can customize to meet your daily needs. This all comes packaged by a cute little fox in a poncho. He will help you setup your account to get the ball rolling for his weather info. The weather is both viewable in Fahrenheit and Celsius in order to reach a broader audience. You can even change the measurement used to describe windspeed, as well as let Poncho know just how much you enjoy pizza!
This app is made to be primarily entertaining. The first thing you will see when opening Poncho is a sort of comical forecast This forecast will give you the current weather while including a funny snippet and gif in the box. Below that you will find the "actual weather" box giving you the next 3 hours of expected weather in your area. Under that you will find your 5-day forecast box to prepare you for the week ahead.  Next will be your windspeed box that like mentioned above can be customized to different measurements.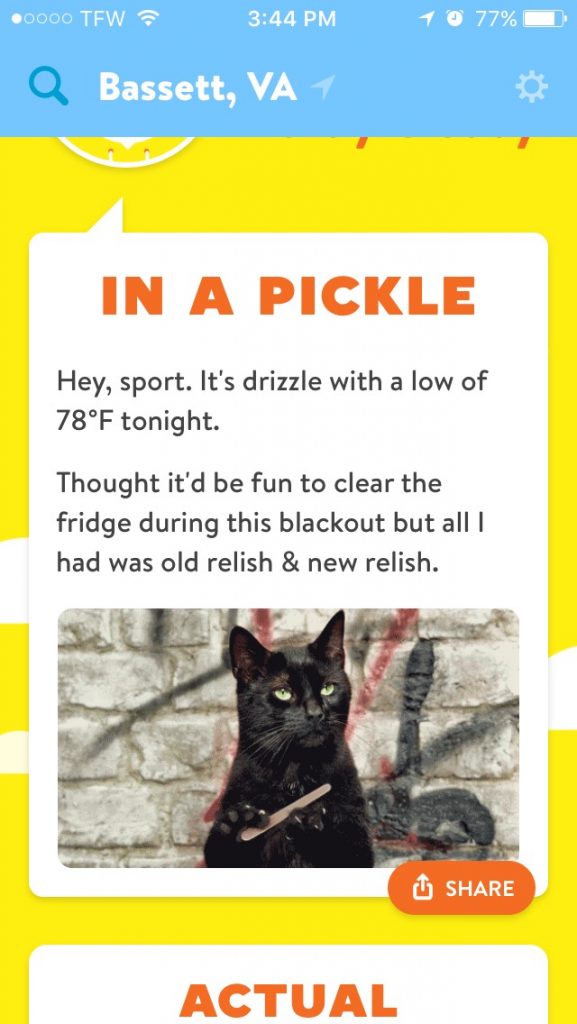 To add more to the usefulness of this app you will have some optional features to choose from. This even includes a pollen meter to let you know how bad your allergies will be for the day. You can also add in a UV meter to help you measure the amount of protection your skin will need if you want to spend the day outside. For additional usefulness Poncho offers you the option to check commute routes in bigger cities to keep track of transit time and congestion. Finally, you have the option of adding on a hair forecast that will warn you of how much frizz can be expected and the best hairstyle to wear for the day,
The app is neatly designed and is essentially just one big dashboard for the displayed information. This means that there is not tab or menus to flip through and all information is easily accessible by just scrolling down. This app can easily be used and understood by anybody with a compatible phone due to this. If you're going out of town for a few days the area is easily changeable by just tapping the name of your current city and entering the one you will be visiting. The load times for the information is also extremely fast for an app and as of right now I have not had any problems what so ever from using Poncho.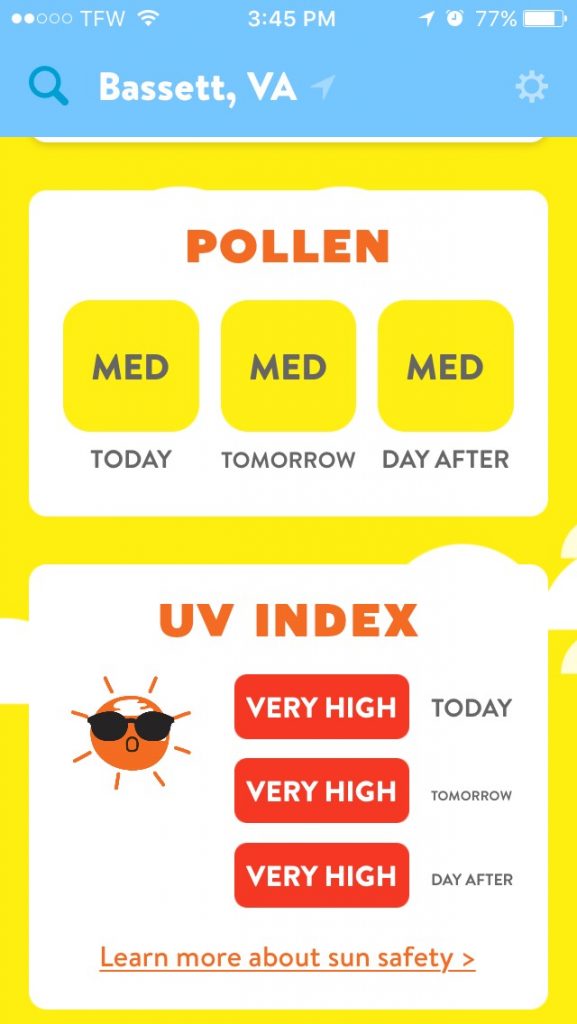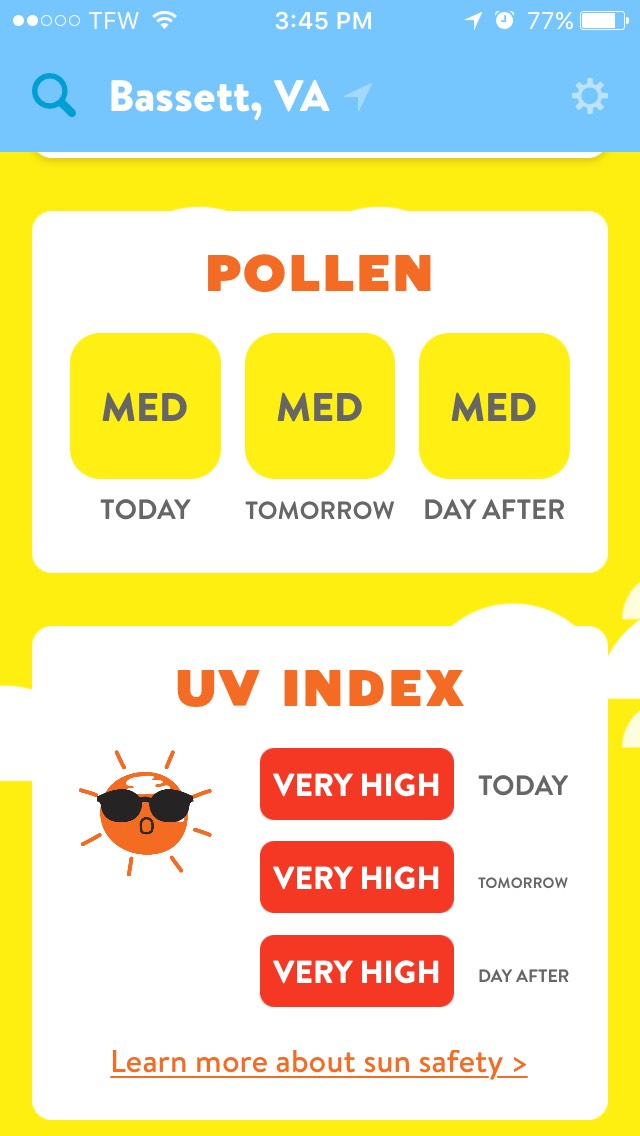 I recommend this app to anyone who is tired of flavorless weather forecasts every day. It is simple to setup your account and even young users can easily understand the colorful dashboard. On top of that the app is 100% free with no adds to interrupt your weather checking. This app is pleasant to look and will be cute to share with your friends while you're planning your next outing!
https://itunes.apple.com/app/id931625520