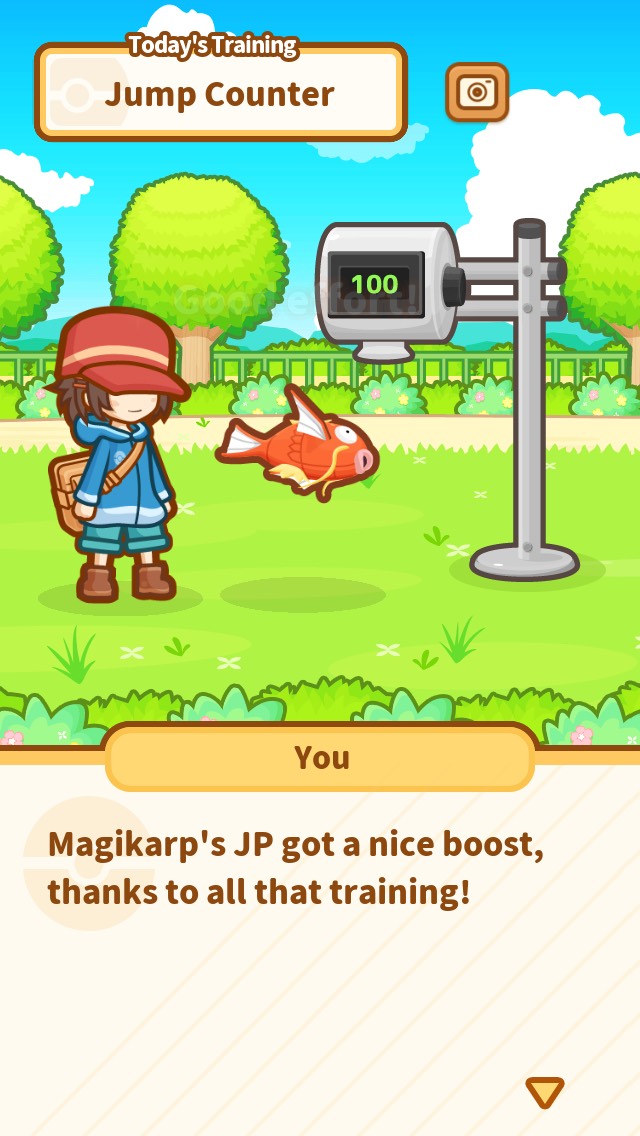 Magikarp Jump is the newest cell phone compatible game made by The Pokemon Company. In this game you don't see yourself collecting a horde of monsters like normal, but instead you get to raise Magikarp. The game is a charming parody of the normal Pokemon style of storytelling and action. It has lots to do inside of the game and even has its own Magikarp decks for you to collect for. The controls are simple taps and button presses and can be introduced to everybody from adults to young children to play. The matches themselves are lighthearted and great fun for anybody looking for a relaxing game to play during their spare time.
The story starts off by you being told by Mayor Karp that they have not had an elite champion in a while. This leads him to take you fishing for your very first Magikarp to raise and nurture. Once you have your Magikarp, you will begin on a magical adventure where you learn to feed and nurture it into a bigger fish. This will be done by winning matches, feeding, and training to give your Magikarp JP points. JP points determine how high your Magikarp will jump in relation to others and the higher the JP, the more league matches you can win. There are 6 different leagues to go through in all and each league has a set number of fights to beat.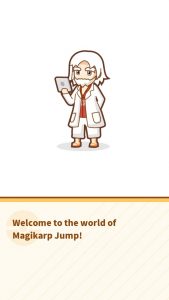 The game also features random events that can earn even more JP and items for you to decorate your pond with and lure other Pokemon to hang out at your pond and watch along during matches. These Pokemon have the ability to cheer on your Magikarp and give him an extra JP bonus. In order to get items to summon other Pokemon, you have to win league matches and purchase them using diamonds and coins in the shops.. Of course these can be bought with real money but you will naturally earn them through the game as long as you have patience.
The game does have a level cap that you will get to with each Magikarp where they can't level up anymore. Once this happens, you will have to fish up a new Magikarp and raise them from scratch. As your character levels up by winning league matches and interacting with their Magikarp, you will be able to fish for higher-capacity Magikarp to train. Your old Magikarp won't play a part anymore but will swim around in your tank to watch over the other ones as a nice nod to how you helped raise them.
With each new generation of Magikarp comes new chances to unlock additional spaces in your Magikarp Dex. The Dex keeps track of all of the different Magikarp patterns you have collected.so far. To collect patterns you fish out new Magikarp from the pond to add to your collection. There are 19 different Magikarp styles to collect throughout the game that are sure to keep you entertained for hours including hard to get types. On your down time, be sure to decorate your aquarium with style to give your Magikarp a wonderful home to swim around in while they practice to become a champion.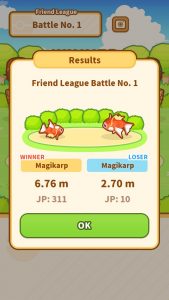 As mentioned above, this game does parody the normal Pokemon games by throwing in a few cute little nods. For example, when you start the game you choose between three rods instead of three Pokemon. The battle sequences are also replaced by the jump battles and the random events themselves are rather funny links back to the main games. The game will keep Pokemon fans entertained for hours and is a great app to have on your phone for free. Just be careful though it is possible for a Pidgeotto to snatch away your Magikarp while playing!